---
Our Dance Classes
Whether you are a beginner or advanced dance student, we offer a wide range of dance classes for adults and children.
Adult
The Adult Dance program at Martell is based on embracing the joy of dance. We strive to accommodate levels of training for the truest of beginners to the time-stepping and former dance aficionado. You will learn foundational dance skills that progress with advancement, rhythm fundamentals, tap, ballet, and/or jazz step sequences, and choreography. Our classes encompass a fun, lively environment that is sure to get your heart ticking, legs stretching, and toes tapping to the many beats of music we explore. Adult Tap and Jazz classes have the option to perform in our annual May Recital.  See also related course descriptions for Tap, Ballet, and Jazz.
Acro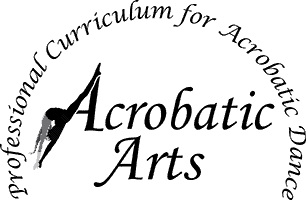 Martell School of Dance is a certified Acrobatic Arts Studio and uses the Acrobatic Arts Syllabus in all Acro classes, including Tiny Tumblers. The Acrobatic Arts Syllabus is a 12 level program for ages 3 and up, focusing on the 5 main Acro elements: Strength, Flexibility, Balancing, Limbering and Tumbling.
At Martell, we teach multiple levels of the Acrobatic Arts Syllabus in each class.
Tiny Tumblers: Primary and Level 1 (Ages 3-5)
No previous experience needed. We will be working on some of the basic skills and poses of our Acrobatic Arts program. Students will learn Baby Bridge, Crab Walk, Frog Jumps, Gallops, Log Rolls, Pre Cartwheel, Rock and Roll, Table Top, Forward Somersaults, Straddle Somersaults and Backward Somersaults, along with other basic Acro poses.
Beginner Acro: Primary, Level 1 and Level 2 (K and up)
No previous experience needed. Beginner Acro students will learn fundamental Acro skills including somersaults, cartwheels, handstands, bridge, balancing, flexibility and strength.
Intermediate Acro: Level 3, Level 4 and Level 5
Invitation only. Intermediate Acro students will build on the basic acro skills and move into harder skills, including standing back bends, kickovers, one handed cartwheels, front limbers, balancing, flexibility and strength.
Advanced Acro: Level 6, Level 7, Level 8 and Introduction to Pre-Professional Levels
Invitation only. Advanced Acro students will build on the previous levels of the Acrobatic Arts syllabus and work on more advanced skills including roundoff, aerials, front and back walkovers, front and back handsprings, balancing, flexibility and strength.
Permitted Attire:
Leotard or Unitard (any color & style) Shorts or Jazz Pants (capri or full length) Fitted t-shirts and tank tops Hair neatly & securely pulled away from face No tights!
Permitted Footwear:
Barefoot only!
What is Acro?
A style of dance which incorporates classical dance techniques with precision acrobatic elements. This is a highly athletic genre of movement that supports a variety of dance genres such as lyrical, modern/contemporary, hip hop, etc. Acro is excellent for developing strength and flexibility as well as developing well-rounded dancers.
More about Acrobatic Arts!
Acrobatic Arts Mission
To set the standard of excellence in education among dance instructors in order to promote technique and progression in Acrobatic Dance
The Premise
We believe that proficient dance educators can be taught how to teach acro dance. Great dance teachers already understand the artistic requirements and extension that dance demands, and can learn the progressions necessary to teach their students the skills fundamental to acro dance
The Demand
The increased popularity of mainstream media, including Cirque du Soleil and Dance Television has created a huge demand for acro dance teachers in studio settings. This has caused some studio owners to hire unqualified instructors or gymnastics coaches (who don't understand the art of acro, or how to perform the skills on a hard stage) to fill the void.
The Acrobatic Arts Solution
The Acrobatic Arts program provides easy progressions for dance teachers to follow, taking the guess work out of offering acro dance by providing step by step instructions for every level. Acrobatic Arts starts at the very beginning, we teach instructors everything they need to know about proper placement and technique so their students will have the building blocks to progress safely and quickly from one level to the next. Acrobatic Arts Teacher Training and Certification courses provide extensive, hands-on training in spotting and progression so teachers leave feeling knowledgeable, confident and inspired to teach acro dance. Studios who continue with Acrobatic Arts Exams for their students will have continuous support, with adjudicator meetings offering feedback and suggestions to improve the studio's acro program annually.
The Benefits
Dancers who train through Acrobatic Arts have balanced development, are stronger, more flexible and fearless. Studios that implement this program will see dancers with more skills, who have fewer accidents, and are less likely to develop chronic injuries.
Ballet
Pre-Ballet
An introduction to ballet with beginning development of ballet concepts including turn out, coordination, spatial awareness and a specific focus on class etiquette. Students will begin learning basic positions of the arms and feet, as well as introductory movement vocabulary in a fun and structured environment that allows time for creative exploration. Students MUST be potty trained.
---
K Ballet
(Ages 5 -6 years, currently enrolled in Kindergarten OR turning 5 in December)
K Ballet continues with the basic fundamentals and reinforces the class structure of Pre ballet in an age appropriate, developmental setting. Students will be further introduced to more movement and skill.
---
Ballet for 1st through 12th Graders
The goal of all ballet classes at Martell is to impart the fundamentals of classical ballet. Our introductory classes (1st-2nd, 3rd-4th, and Ballet I) will focus on basic ballet technique, proper body alignment, ballet terminology and musicality. Students will be introduced to elementary barre and center work. These classes are appropriate for the beginning student.
After students have demonstrated full understanding of the previous level, students will be promoted to Accelerated 3d-4th Grade OR Ballet II (5th grade and up). Body alignment and muscle awareness will determine progress. This class will focus on positions of the arms, direction of the body and increased movement vocabulary. This class will also move at a quicker pace while introducing new concepts and challenging the students on a physical and mental level.
As students continue their ballet training, attention is paid to the proper extension of the legs and shape of the feet, developing movement sequences, port de bras and balance. Students will see an increase in difficulty in barre and center work. Students begin focus on repetition and retention. Single pirouettes and grande allegro are introduced. Depending on individual progression and development, students may be given the opportunity to take pre-pointe and pointe classes. Training becomes much more serious as students continue through our program. Classes will continue to focus on proper extension of the legs and shape of the feet, developing movement sequences, introduction of multiple pirouettes, use of the head and upper body, fluidity of port de bras as well as the intricacies of small and large jumps as they progress.
In our higher most levels, training becomes much more rigorous. Classes will focus on strength and technique, multiple pirouettes, fluidity of movement as well as the intricacies of small and large jumps. Artistry is a major component of classes at Level V and up. By this time, students should adequately demonstrate an understanding of body alignment, technique, and pick up on movement phrases at a relatively quick pace. Level VI classes are for the advanced ballet student. Only those who have a strong mastery and desire to pursue ballet seriously should attend. This class will pay attention to fine details, use of the upper body, breath of movement and expression as well as an increasingly advanced repertory of steps.Ballet II through Ballet VI are by teacher recommendation and/or audition only.
Clogging
Clogging at Martell is high energy and full of fun! It's a style in which the dancer's footwear is used percussively by striking the heel, the toe, or both against a floor or each other to create audible rhythms, usually to the downbeat with the heel keeping the rhythm.
Fusion
Fusion is a performance based class that infuses several genres of dance together such as: contemporary jazz, jazz funk, jazz musical theatre, and contemporary hip hop. This movement is geared towards inspiring students to work with one another on partnering, characterization, and overall connection towards the collaboration of movement and energy built off of one another.
Hip Hop
Hip Hop is a high-energy class that infuses the latest styles of street dancing. The movement is fun, intricate, and fast paced encouraging students to step outside of the box by bringing their own individual style and personality to the steps.
Jazz
Jazz dancing is a technique that was pioneered in the early 1900's with influences from the African and street dancing mixed with ballet technique. The styles of jazz dancing have evolved with the music of the decades from drumming to big band and jazz, and eventually into the pop music that we now listen to today. These origins inspired many contributors that shared and created their own styles over this time. Some of these performers turned pioneers turned teachers and choreographers include but are not limited to Bob Fosse, Gus Giordano, Eugene Louis Faccuito (Luigi), Frank Hatchett, Ron Farella, Matt Mattox, and Joe Tremaine. These greats developed and shared a curriculum that very much mirrors a ballet class in technique, discipline, and flow of class. Jazz dancing follows its own technique in such ways of working in a more parallel positioning and a modified port de bras as compared with ballet. Jazz dancing also includes many different styles based on music development. Some of these subcategories would include: broadway/classic/musical theatre, lyrical, and contemporary to name a few.
Lyrical
Lyrical dancing could also be termed lyrical jazz as it is a branch of jazz dancing. Similarly to traditional jazz dancing, lyrical is highly influenced by ballet technique mixed with jazz techniques for its movement. Lyrical dancing is more specifically characterized by the style of music that it is performed to, usually including music that contains lyrics which invoke a great deal of emotion. This emotion is then portrayed through the steps to further explain the meaning of the song and/or the piece of choreography. Students that want to study lyrical dance should also look to invest in ballet and jazz techniques to start, as lyrical dancing is a more advanced style of jazz that requires a more mature quality of transition and fluidity of movement.
Modern Dance
Our Modern dance program is centered on the technical foundations of Graham, Taylor, Horton, Muller, and Hawkins-based release. In modern dance, students have the opportunity to study basic fundamentals of movement as well as incorporate their already established dance education. With a goal of achieving a deeper understanding of their body, students focus on dynamic alignment, body/mind connection, increased vocabulary and musicality, with emphasis on artistry. As students progress through our Modern dance program, they absorb the understanding of the technique on a fundamental level and then focus more on artistry, culture, choreography, and concert dance in our higher-most levels.
Move With Me
(Ages 2-3 years with a Parent or Guardian)
Class is specifically designed for the young child that loves to move and dance with music. Emphasis is placed on both fine and gross motor skill development, coordination and balance in a safe nurturing environment that encourages parent involvement. Parents dance alongside their child in this class.
Musical Theatre
The Musical Theatre program is designed to educate, strengthen, and elevate young performers in our community. By combining exercises and activities in singing, acting, and dancing, this class is bound to shape the musical talents of each student–empowering them to bring their skills and confidence to both the stage and their every day lives. Students will practice solo and group vocal exercises, improvisation, stage fundamentals, acting and reacting, and Broadway-style choreography in a safe, non-judgmental setting that nurtures their creativity and imaginations.
Pointe
Students begin formal training for Pointe by enrolling in the Demi-Pointe (Pointe I/II) class and by recommendation of their ballet teacher and the faculty. Students graduate to pointe shoes as the muscles, bones, and joints of the legs, feet, and back are anatomically ready. As students progress en pointe through our program, they will begin performing pointe pieces in the recital at Level IV. Long term training in traditional ballet classes is required in addition to the approval of the Faculty for students to begin studying en pointe.
Tap Dance
Pre-Tap:
(Ages 3 -4 years, not currently enrolled in Kindergarten OR turning 4 in December)
An introduction to tap with beginning development of tap concepts and musicality. This fun and upbeat class focuses on basic elements of tap dancing, spacial awareness, discipline, and rhythms / making appropriate sounds with tap shoes. Some social dancing is introduced in this class. Students MUST be potty trained.
---
K Tap:
(Ages 5 -6 years, currently enrolled in Kindergarten OR turning 5 in December)
K Tap continues with the basic fundamentals and reinforces the class structure of Pre Tap in an age appropriate, fun, developmental setting. Students will be further introduced to more movement fundamentals and rhythmic skills regarding Tap class and class etiquette and structure.
---
Tap for 1st-12th Graders Coming Soon!
---
Registering for Martell School of Dance
Our annual registration fee is $35 per family if registered before October 1st, or $40 if registered on or after October 1st. The 1st month's tuition cost is due at time of registration. Click here for more information about tuition.
Registration dates for new and returning students are held each August. If you have missed registration, please call (330) 253-9900 or e-mail Rachel Huffman for more information about our studio and to schedule a meeting. We prefer in person registration and will gladly arrange an enrollment appointment for you!
---
Auditions
New & Returning students ages 5th grade and up should audition for placement.
---
Voted #1 Dance Studio by Akron Life Magazine Readers*
1st Place: 2012, 2013, 2014, 2015, 2016, 2018, 2019 / 2nd Place, 2017, 2020

Our Location
Martell School of Dance and Martell Tu
(Pre-school to Adult)
1530 W. Market Street
Akron, OH 44313
Phone: (330) 805-4854
Directions: Google Maps
Hours:
Monday: 4:00 – 9:00 PM
Tuesday: 4:00 – 9:00 PM
Wednesday: 4:00 – 9:00 PM
Thursday 4:00 – 9:00 PM
Friday: Closed
Saturday: 9:00 AM to Noon
Connect With Us
Ready to become a part of our historic dance studio?
Get started by filling out the form below or calling us at (330) 805-4854!